2020 Josephite Calendars – out now!
August 2, 2019
Selling Fast – 2020 Josephite Calendar – $8 plus postage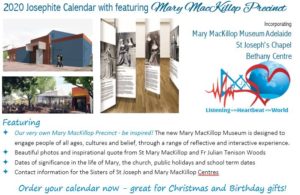 Calendars are running out the door with a few left on the shelf!
Please purchase your calendars for Christmas before you don't miss out!
You can complete the form electronically (instructions on form) and CLICK TO EMAIL FORM.
This will generate an email with the form attached, and you just press send. Your email will be acknowledged.