2020 Josephite Calendars – on their way!
August 2, 2019
Orders are being taken in advance for 2020 Josephite Calendar – $8 plus postage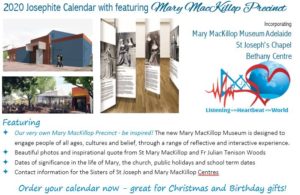 We won't be receiving stock until October, but hope to sell as many as possible before the end of the year.
Please order your calendars early so that you don't miss out.
You can complete the form electronically (instructions on form) and CLICK TO EMAIL FORM.
This will generate an email with the form attached, and you just press send. Your email will be acknowledged.