Walk in Mary's footsteps …
January 24, 2023
Come and  walk in the footsteps of Mary MacKillop and her pioneering Sister companions. Discover the people and some of the places connected to the early Josephite story in Adelaide. 
Mary MacKillop Walk (Kensington/Norwood)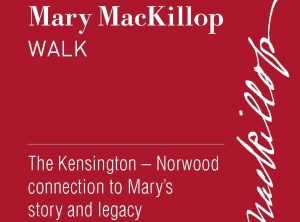 Pick up a free self-guided booklet* and complete the walk at your own leisure, or download it to your smartphone.  *Collect from either  Mary MacKillop Museum, 19 Phillips Street, Kensington (Tuesday to Sunday) or  Norwood Town Hall, The Parade, Norwood (Monday to Friday)
Guided tours are available on the 1st Sunday and 1st Wednesday of every month, except January.  Bookings are essential:  by 4.00p.m. the day before the scheduled walk.  Phone Mary MacKillop Museum: 08 8130 5910, or email.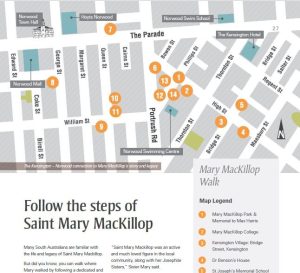 Click here to read the full article from 'Look East', August 2021 (page 27)
Here's one walker's reflection on her experience of the Mary MacKillop Walk:
… My daughter and I enjoyed it very much and the beautiful weather was an added blessing.  Really nice to see some of the lovely places that commemorate Mary MacKillop.  We had very knowledgeable guides who were thoughtful and considerate too … We also liked the little booklet which is a very attractive souvenir … we both thought the size is ideal.  It can be read easily and slipped into a pocket or bag with little effort. It is perfect so we hope you do not change it … It was a very pleasant morning and we will recommend the walk to others.
Mary MacKillop's Adelaide
Australia's first saint lived in inner city Adelaide for five years. In that time, she established schools and charitable institutions on well-known Adelaide streets, leaving a lasting mark on the city.
Visit adelaidecityexplorer.com.au (search for Mary MacKillop) or download the app on your mobile phone to follow the footsteps of St Mary MacKillop and her early Sisters through the city.
Let the story of this courageous, trailblazing Aussie pioneering woman touch your heart!