A place and a story to touch your heart
May 18, 2021
Mary MacKillop Museum will captivate and inspire you!
Suitable for adults and children of all ages and backgrounds, it tells the story of Australia's first canonised saint – a woman of courage and resilience, a pioneering educator and social reformer – and some of the countless people have  have been inspired by her life and values.
Mary MacKillop Museum:
is located at Mary MacKillop Precinct, Kensington, where Mary lived from 1872-1883.
offers an interactive visitor experience through the use of sound pens, touch screens and other contemporary storytelling approaches
is disabled-friendly
provides translated texts of exhibits in three languages: Italian, Vietnamese and Chinese
has an enthusiastic band of volunteers who love to welcome visitors
has an exciting Gift Shop with reasonably-priced memorabilia and religious objects,  plus beautiful gifts and cards for special occasions and milestones
has a great café  – the High Street Cafe – that's open every day, it offers both indoor and outdoor dining in beautiful surroundings
is the starting and end point for the local Kensington-Norwood recently launched self-guided Mary MacKillop Walk (see page 7)
Click here for a short virtual tour of Mary MacKillop Museum.  We invite you to visit the 'real thing' – any day, except Monday, between 10.00a.m. and 4.00p.m.
Here's what some of our visitors have said: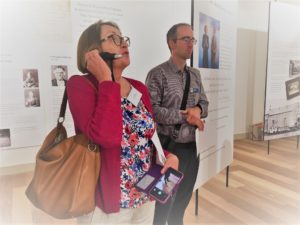 Some visitors' comments:
An easy to navigate and interactive museum that taught me so much about Mary MacKillop and the early days of the Sisters of St Joseph. It oozes history with a contemporary feel and a future orientated passion.
This is a lovely museum. Its very contemporary in its exhibition design and the story it tells would carry you along even if you were visiting a much duller museum! I particularly liked following the story of one of ten members of the Josephite order which St Mary MacKillop founded. You can do this using QR cards which take you to a number of terminals.This particular woman joined young and took on some really tough and lonely jobs. She kept writing sad and anxious letters to Mary MacKillop. I kept thinking:" She's going to give up!" But she never did! It's an excellent way to tell a story …
To walk in the footsteps of Australia's first saint and the Sisters of St Joseph was a deeply spiritually uplifting and moving experience. The Museum is part of the Mary MacKillop Precinct where Mary MacKillop lived for eleven years of her life. The Museum staff were welcoming, knowledgeable and passionate about the Museum, its contents and sharing the wisdom and life of Mary MacKillop and the Sisters of St Joseph.
The Museum offers a hands-on experience suitable for all ages using audio and visual storytelling activities to engage and inspire. Great care has been taken in the planning and presentation which inspires as soon as you enter the space.
This Museum is a beautiful legacy for all to visit, enjoy and be inspired!
It's a warm and welcoming space …  the perfect place to be on a cold winter's day!  Come, 'enjoy and be inspired'!
For enquiries, please phone 08 8130 5910, or email: info.mmprecinct@sosj.org.au
Follow us on Facebook!
Be assured that we have Covid-safe protocols in  place to keep you safe. Checking in is essential.