An Open Letter to Teachers
July 30, 2021
Sunday, 8 August is the Feast of Saint Mary MacKillop, the Saint for ALL Australians (and others too, of course!).
Dear Teachers,
We're sure that you will be celebrating this special day with your school community. Perhaps you'd be interested in some resources that will assist you to do this in fresh and creative ways.
Here's a link to a whole range of resources which, we hope, will help you to share some of Mary's story and legacy with your students of whatever age, from the tiniest beginners to the senior secondary classes.
In addition to what we have provided here on our website, here is another link:  to the ideas and resources which have been created and shared by the Mary MacKillop Place staff for this year's Feast Day.
We are so aware of the way that Covid continues to impact on school communities, but hope that, once restrictions are lifted and life resumes some degree of normality, you might consider bringing your students to Mary MacKillop Museum!  In recent months we have welcomed a number of school groups, with students ranging from Reception to Year 9.  Feedback from the children and their teachers has been overwhelmingly positive.  Of course, the experience of a 5 year-old is vastly different from that of a 14 year-old, but the museum offers something for everyone (adults too, of course), and our staff and newly appointed School Liaison Co-ordinator (an experience educator)  is very happy to work with teachers prior to their visits, providing resources and strategies to ensure that our student visitors will have a very positive and inspirational experience, regardless of their age and year level.
We hope that, wherever you are, you will be able to celebrate Mary's special day in meaningful ways with your students and school communities, and that we have assisted you to do this.  We would love to hear how you celebrated! Photos would be welcomed for our Facebook page!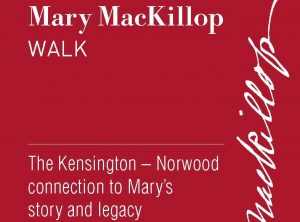 Our recently-launched and self-guided local Kensington-Norwood Mary MacKillop Walk is proving very popular with people of all ages.  In addition to young Mums with prams and a family who did the walk to celebrate their 90 year-old nanna's birthday, we've had lots of school staff and student groups set off on the walk from Mary MacKillop Museum and return very happy – and inspired by their experience!   You might like to try this too! Here is some more information about the walk, which is also a lovely weekend activity that you could start or finish with a hot drink and a snack at the Museum's High Street Cafe. (Please note: bookings are necessary during Covid restrictions. Contact details on cafe website.)
Wishing you a very happy feast of Saint Mary MacKillop, and continuing blessings for yourself and your school community.
My hope and prayer is that you will all stay safe, well and in good spirits in these challenging and uncertain times.
Mary Ryan rsj
Director: Mary MacKillop Precinct
---
Painting: artist unknown.  Can you help to identify the painter of this delightful image, so that due acknowledgement can be given?
---