Breaking News!
April 13, 2022
Mary MacKillop Museum has won Adelaide's 2022 Eastside Business Awards inaugural Best Arts & Culture/Entertainment Experience category!
In addition to the honour, the award is accompanied by digital advertising and business advisory services packages (valued at $2,000) which will be gratefully received and utilised.
Click here for the full report about the awards evening.
This  award belongs to all who have made Mary MacKillop Museum the inspiring, welcoming, happy place it is. Thanks, one and all!
Come and visit the museum – experience all of this for yourself!  A wonderful 'go-to' place for the school holidays! A warm welcome awaits you!
Here is a 4-minute Introduction to Mary MacKillop Museum
We're open 6 days a week (not Mondays) – 10.00am-4.00pm.
19 Phillips Street, Kensington 5068.  Easily accessible by public transport.
For enquiries, call: 08 8130 5910 or email: info.mmprecinct@sosj.org.au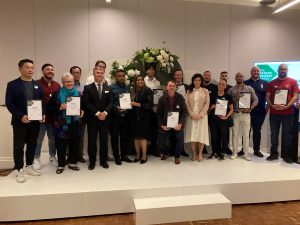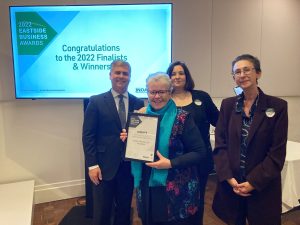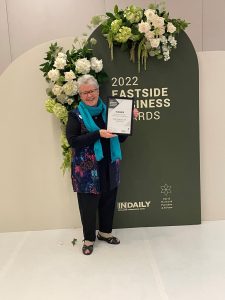 Photos:
Mary Ryan rsj, received the award on behalf of the Sisters of Saint Joseph, the staff and volunteers of Mary MacKillop Museum

All the winners of awards for the different categories, pictured with Mayor Robert Bria and Andrea Michaels, SA Minister for Small Businesses

Mary, with Mayor Bria and Mary MacKillop Precinct staff members, Alex DalSanto and Grace Beaumont

Mary proudly showing  off the winner's award.