August 8: Celebrate Mary's Feast Day in Covid-safe Ways!
July 30, 2021
This time last year, we were able to celebrate Mary's Feast Day here at Kensington, in a Covid-safe way, with our new Archbishop, the Sisters and a limited number of family members, friends and colleagues.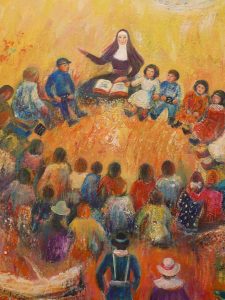 Sadly, this year, with increased restrictions in place, it just won't be possible to gather in ways to which we've become accustomed. However, perhaps this is an opportunity for us to think outside the square, and try some new and different ways of celebrating Mary's legacy and thanking God for the enormous contribution this courageous, resilient, pioneering woman made to 19th Century Australia, starting, of course, in the fledgling colony of South Australia.   Hers is a story well worth pondering!
Will you consider finding Covid-safe ways of celebrating Mary's life and legacy on her special day?
Here are a few possibilities that might appeal to you!
Find out a little of Mary's inspiring story and legacy.  Visit the Sisters of Saint Joseph website.
Come and visit Mary MacKillop Museum – 19 Phillips Street, Kensington – next Sunday.  Opening hours: 10.00am – 4.00p.m.. The usual admission fee will be waived, and entry will be by donations. Discover some of the inspirational stories of Mary, and those who have followed her since 1866. Hear Mary and her pioneering companions talk to you in their Scottish, Irish, English and German accents!  Enjoy using the user-friendly touch screens … let the stories touch and inspire you!  Pick up a memento of your visit at our exciting Museum Gift Shop.
Have an 'armchair tour' of Mary MacKillop Museum! Sit back, relax and enjoy this short video.
Come here to Kensington and walk do the self-guided local Mary MacKillop Walk.  Walk where Mary walked …. To find out more about it, visit our website.  Pick up a walking tour guide booklet at the museum, or Norwood Town Hall,  or click on the following link for a digital copy, which is printable and also works well on smart phones!    This is a lovely weekend activity for solo walkers, families or groups. You could start or finish with a hot drink and a snack at the Museum's High Street Cafe. (Please note: lunch bookings are necessary during Covid restrictions. Contact details are on the cafe website:
Make a virtual visit to Mary MacKillop's tomb and spend some quiet time there with her. Click on this link.  Pause and share with Mary the longings of your heart. Ask her to pray with you to God for your needs and the needs of our world.
Dip into the spiritual ideas and resources which have been created and shared by the Mary MacKillop Place (Sydney) staff for this year's Feast Day. These include:
–  Novenas
–  Three Days of Prayer
–  Resources for Children (home and school)
You can access these resource via this link.
Celebrate in retrospect!  Revisit last year's Feast Day celebration, streamed live here at Kensington on 8 August 2020. . Celebrant was our new Archbishop, Pat O'Regan.  Here is the Youtube link:  Almost 3 ½ thousand people have already watched this!
Let's all remember and celebrate Mary in Covid-safe ways!  However you choose to do this, whether alone or with family and friends, we hope you will have a happy and memorable day!
We would love to hear how you celebrated! Photos with a brief caption would be welcomed for our Facebook page!
We wish you and your loved ones many blessings.  May you stay warm, safe and well through these wintry, uncertain and Covid-challenging times!
---
Painting: Veronika Dimac - InJoy International.  Used with permission of the artist.

---