Enjoy a Virtual Tour Mary MacKillop Museum!
April 23, 2020
Adelaide's newest museum tells the story of Mary MacKillop, Australia's first canonised saint: pioneering educator, social reformer—now a cultural icon—and those who have followed her since 1866.
Mary MacKillop Museum:
is located at Mary MacKillop Precinct, Kensington, where Mary lived from 1872-1883.
offers an interactive visitor experience through the use of sound pens, touch screens and other contemporary storytelling approaches
is disabled-friendly
provides translated texts of exhibits in three languages: Italian, Vietnamese and Chinese
has an exciting Gift Shop with reasonably-priced memorabilia and religious objects,  plus beautiful gifts and cards for special occasions and milestones
has an enthusiastic band of volunteers who love to welcome visitors
has a new café, which opened in October this year
is the starting and end point for the proposed local Kensington-Norwood self-guided Mary MacKillop Walk.  This is a work-in-progress, and will be launched early in 2021.  Watch this space!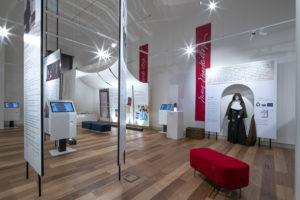 Click here for a 2-minute virtual tour, which, we hope will give you a taste for more!
We invite you to visit the 'real thing' – any day, except Monday, and between 10.00a.m. and 4.00p.m.
Come … be inspired. Visit alone, or with a group.
For enquiries, or  group bookings  please contact us