A Day of Contemplative Photography – with Val DeBrenni and Mary Ryan rsj, Saturday, 6 May
March 20, 2023 12:00 am - May 7, 2023 12:00 am
  The emphasis of this day is on awareness, wonder, seeing and experiencing rather than on any final 'product'.  We explore photography as contemplation through prayer, journaling and a series of exercises.
Our theme is the season of Autumn with its winds, blaze of autumnal colours and emotional resonances that are influenced by  memory, experience, culture and geographical context. No Photographic experience is required.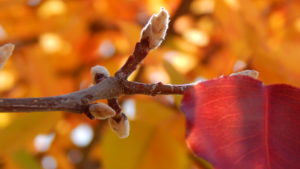 You may bring your digital camera, i-pad/tablet or phone as your photographic tool.
Saturday, 6 May,  9.30am-4.00pm
Presenters: Val DeBrenni and Mary Ryan rsj
Venue: Bethany Centre, 4 High Street, Kensington (street parking only – easy access to public transport)
Registration Essential by Monday, 1 May
Cost: $55 or Pension/Unwaged $40
BYO Lunch
Enquiries:  P: 8130 5900 |  E: infosa@sosj.org.au
This day is suitable for all adults. 
It is also approved by CESA as a SAM for teachers, 
requiring the submission of a 1500 word reflection paper
Meet our presenters…
Val DeBrenni, a Covenant Josephite, is a trained spiritual director and supervisor.  She is the Director of the  Spiritual Director Formation Program for the Catholic Archdiocese of Adelaide and a member of the a member of the Ignatian Heart Spirituality Team, Val has a special interest in the spiritual formation of teachers and leaders in Catholic schools.
Mary Ryan rsj is the Director of Mary MacKillop Precinct.  She has spent many years working in the areas of primary and secondary education, adult and young adult spirituality and also in a number of leadership roles in both Victoria and NSW. In recent years, Mary has co-ordinated the establishment of Mary MacKillop Precinct, the redevelopment of Mary MacKillop Museum and the creation of the Kensington-Norwood Mary MacKillop Walk.  A keen photographer, she is inspired daily by her hero, Saint Mary of the Cross MacKillop.
Venue: Bethany Centre, 4 High Street, Kensington SA (street parking only – easily accessible by public transport)