July Programme
June 27, 2019 12:00 am - June 30, 2019 12:00 am
Greetings from Mary MacKillop Precinct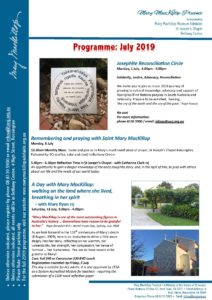 Sisters and Brothers, welcome. We recognise that we are gathering on Kuarna Land.
Join us in July for our regular events in July.
Prepare to be enriched, hearing…'the cry of the earth and cry of the poor' at the Josephite Reconciliation Circle.
Remember and praying with Saint Mary MacKillop at the 8th of the month Mass and Morning Tea.
A Day with Mary MacKillop…an invitation to delve a little more deeply into her story.
To register for you events Phone: 08 8130 5900 or email: infosa@sosj.org.au