Looking with Tenison Woods & Teilhard de Chardin
July 11, 2023 12:00 am - August 21, 2023 12:00 am
You are invited: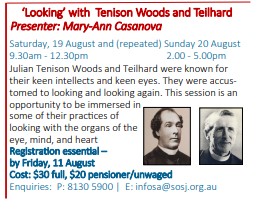 Venue: Bethany Centre, 4 High Street, Kensington SA (street parking only – easily accessible by public transport)
About our presenter:
Mary-Ann Casanova rsj has recently returned to South Australia after a twenty-year absence. During this "long sabbatical" she was engaged in practical ecological projects such as helping to manage an organic farm and an ecological learning centre. She co-authored a series of educational resources which linked ecology and Christian Spirituality, and worked for Catholic Earthcare Australia.
Mary-Ann's freshly minted PhD with a concentration in Ecology, Spirituality and Religion, brings her early life on a sheep station together with her Josephite ministries of teaching and decades of ecological work.