SA History Festival: Mary MacKillop Walk: 1st Birthday Celebration
April 14, 2022 9:14 am - May 2, 2022 12:00 am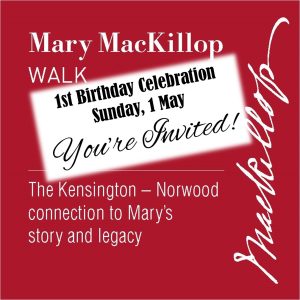 Come along … Celebrate with us!  Book now for the special 1st Birthday Mary MacKillop Walk 
Sunday, 1st May, 2022
Assemble at Mary MacKillop Museum, cnr High and Phillips Street, Kensington
Meet your guides and set out at

10.30a.m.

Free walking trail booklets will be provided
Come back to the Museum for the cutting and sharing of the birthday cake at around 12.00 noon.
No cost, but bookings are essential, so we'll know how many guides are required and how big the cake needs to be!
Bookings:
Phone: Mary MacKillop Museum –  08 8139 5910 (Tuesday to Sunday)
OR
Email: info.mmprecinct@sosj.org.au