2023 Spotlight on Mary MacKillop – 8th of every month (mostly!)
February 2, 2023 12:00 am - March 9, 2023 12:00 am
Mary MacKillop died on 8 August, 1909. For almost 30 years, we have had a tradition of gathering with our family members, friends and colleagues,  here – at Mary MacKillop Precinct – on the 8th of every month  (except April – Holy Saturday) to honour Mary, discover more of her legacy, and pray for the needs of our world.
We are continuing this tradition in 2023.
All are welcome to attend any, or all of the 2023 Spotlight on Mary MacKillop events.  The dates are as follows:
Wednesday, 8 February
Wednesday, 8 March
Monday, 8 May
Thursday, 8 June
Saturday, 8 July
Friday, 8 September
Sunday, 8 October
Wednesday, 8 November
Friday, 8 December
Please note: August will be different!!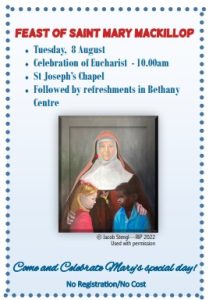 Click here for information about other Mary MacKillop Precinct events for 2023.
Hope to see you some time this year at one, some, or all of our events!
We wish you many blessings for 2023!