St Mary MacKillop Feast Day – August 8
August 8, 2020 10:30 am - August 8, 2020 11:30 am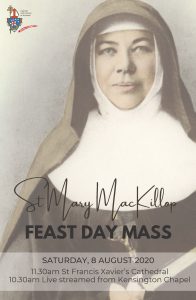 The Feast Day of St Mary MacKillop of the Cross
We're sorry that, because of Covid- 19 restrictions, we can't invite you all to our celebration on Mary MacKillop's feast day, 8 August. But … we CAN invite you to join in online with our celebration!
We are delighted that the Adelaide Archdiocese has partnered with Mary MacKillop Precinct to bring this special occasion to a wide audience through live streaming via YouTube.
Saturday, 8 August 2020
10.30 Live streamed from St Joseph's Chapel
Click Here for to get up to date event information
Be with us in spirit as we honour Mary on this anniversary of her death, and thank God for the gift of her life.