New Mary MacKillop Walk
April 14, 2021
Launching this weekend!
Mary MacKillop, Australia's First Saint, founded the Sisters of Saint Joseph, together with Father Julian Tenison Woods in 1866. They shared a joint passion for providing accessible education for children from poor families and this extended beyond education to social welfare.
The Adelaide suburbs of Kensington and Norwood figure prominently in Mary's story. She was an active and much loved figure in the local community along with her Josephite Sisters. These were women ahead of their time who believed in educating the mind and heart and with a keen sense of social justice.
Launching to the public on April 18 will be a dedicated, signposted walking trail, bringing together a  rich history and sense of place of Mary's legacy.
The walk hosts 14 unique Saint Mary MacKillop stops each with their own significant story. The walk will take a leisurely 60-90 minutes, is accessible for all and is signposted, thanks to a 2020 grant from the SA History Trust. A detailed guided booklet is available from Mary MacKillop Museum, or online at marymackillopadelaide.org.au (PDF attached with this press release)
At the starting point of this walk is the Mary MacKillop Museum, an interactive and sensory showcase of Australia's first saint and the Josephite Sisters.  Very fittingly, the walk finishes at  the Museum's new High Street Cafe!
Be part of living history! Guided tours of the walk will be available on the 1st Wednesday  and 1st Sunday of every month @ 10.30a.m.,  meeting at Mary MacKillop Museum 19 Phillips St, Kensington.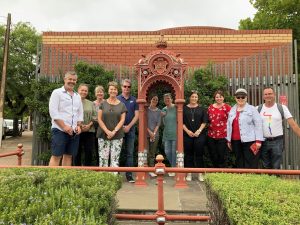 Here's a sneak preview of the Kensington-Norwood Mary MacKillop Walk!   Hard copies of this booklet will be available from next week at Mary MacKillop Museum, Kensington (open Tuesday to Sunday), also Norwood Town Hall during business hours.
Watch this space!
More Information
Mary MacKillop Museum
Phone: 08 8130 5910
Email: info.mmprecinct@sosj.org.au