Order your 2021 Josephite Calendar Now!
October 2, 2020
Come and visit our Gift Shop to purchase your 2021 Josephite Calendar – Available Now!
Perfect timing for Christmas – a special gift for that special person.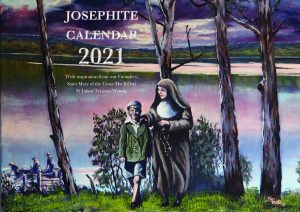 Apart from the regular dates you may find in a calendar, and of course significant dates and events in Josephite history, special features of the calendar are the inspirational writings of St Mary MacKillop and Fr Julian Woods and the beautiful photos contributed by Josephite Sisters and Associates.
Come and visit the Mary MacKillop Museum to Pay and Collect your calendar(s) from our gift shop – perfect timing for a Christmas gift or for a birthday.
You can also order your calendar(s):
Send completed Order Form with Payment to: Mary MacKillop Museum, PO Box 57, Kent Town SA 5071, Complete the credit card details or send a cheque payable to: Trustees of the Sisters of St Joseph
Download and complete the fillable order form: To complete form electronically click on the first field box to complete then tab to the next field. At the end, click on 'CLICK TO EMAIL FORM' to send the form by email.
Download the 2021 Calendar Form HERE.