Our Volunteers' Generosity and Creativity
August 6, 2022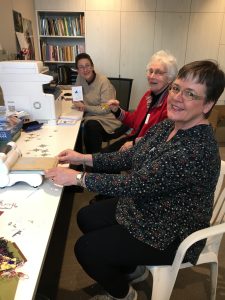 Mary MacKillop Museum has a wonderful band of volunteers. Their generosity and creativity are boundless!
In addition to turning up faithfully every time for their rostered shift they're continually dreaming up new ways to raise funds to help us reduce the large loan we took out to redevelop the Museum into its current beautiful, inspiring form.
The Museum is open to the public 6 days a week (Tuesday to Sunday), and, every day, several volunteers arrive to offer their time and contribute in myriad ways to create the warm, welcoming, inspirational place that it is.  They love to welcome visitors – the more the merrier – but there are quieter times, and they love to be kept busy, choosing activities that interest them.  A number of them love card-making, and they've been producing a huge range of amazing hand-crafted cards for our Gift Shop. Pinterest has been a great source of inspiration!
The word is spreading, and every day, people from near and far  are popping to to buy beautiful, inexpensive cards to share with family and friends as they to celebrate the joyful events of life:  birthdays, new babies, weddings, anniversaries, graduations, Christmas, etc,   There's also a whole range of stunning cards that commemorate rites of passage,  including Baptisms, First Communion Confirmation and Ordination. and, on a sadder note, the death of loved ones.
Plants and bulbs are the Volunteers' latest fund-raising project!  A small group of green-fingered gardeners has been busy potting plants from donated bulbs and cuttings. It's been lovely to see plants sprouting and flowers beginning to peep through, reminding us that this long winter will soon be gone and Spring really is on the way. Our little plant trolley, which is wheeled outside each morning, is attracting a lot of interest – and sales!!  It's also been heartening to see people heading off with big smiles carrying their bargain plant that they  (and we) hope will soon be shooting in their home or garden.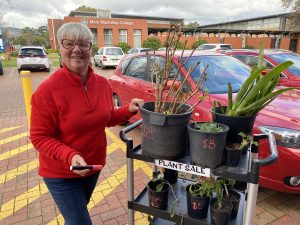 Volunteers are the lynch-pin of Mary MacKillop Museum: fund-raising is only one facet of their contribution!  Their cheerful sharing of their time, talents, resources and friendship does so much to enrich the life of this place – which so many of them unashamedly call their 'happy place'.
Who knows what will their next project be!  Watch this space!