SA History Festival: Adelaide Gaol to honour early Sisters' Prison Ministry
April 14, 2022
In addition to our own Mary MacKillop Precinct's SA History Festival event on Sunday 22 May, the Adelaide Gaol's History Day on 15 May will include an acknowledgement of the Prison Ministry of Mary MacKillop and her pioneering companions.
Here is the information provided by the Adelaide Gaol staff: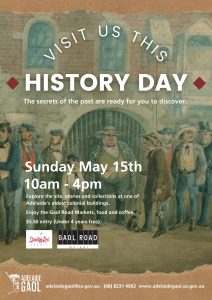 Visit Adelaide Gaol this History Day and explore the site, stories, and collections of one of Adelaide's oldest colonial buildings.
This year you can walk through the never-before-seen Story Cells and learn the untold stories of some of the gaols iconic characters. The new Contemplation Cell provides a compelling insight into the thoughts and feelings of prisoners and how they coped with prison life. It features Mother May MacKillop and illustrates how she brought light into an otherwise dark place.
The newly exhibited Original Cell Block Display showcases artefacts from the Gaol's chapel, as well as a miniature model of Adelaide Gaol and a prisoner-made model of the Cutty Sark ship.
Mingle in the Gaol Road Markets and enjoy lunch with food and coffee available.
The secrets of the past are ready for you to discover.
Bookings are essential – click here to purchase your ticket
You might be interested in this background reading about the early Josephites' Prison Ministry