You too can walk where Mary walked!
May 18, 2021
New Walking Trail Launched
The Adelaide suburbs of Kensington and Norwood figured prominently in Mary MacKillop's story. She was an active and much loved figure in the local community, along with her Josephite Sisters. 
A footpath plaque along the Norwood Parade tells us that: "The heart and soul of Mary MacKillop and the Josephite Order an an essential part of the rich history of this district." These were women ahead of their time who believed in educating the mind and heart and with a keen sense of social justice.
Launched to the public on April 18 by Greg Mackie, CEO of SA's History Trust,  was a dedicated, signposted walking trail – the Mary MacKillop Walk –  which brings together a rich history and sense of place of Mary's legacy. The Southern Cross has shared a colourful account of the launch in its May edition.
The walk hosts 14 unique Saint Mary MacKillop stops each with their own significant story. It will take a leisurely 60-90 minutes, is accessible for all and is signposted, thanks to a 2020 grant from the SA History Trust.
At the starting point of this walk is the Mary MacKillop Museum, an interactive and sensory showcase of Australia's first saint and the Josephite Sisters.  Very fittingly, the walk finishes at  the Museum's new High Street Cafe.
Be part of living history! You can do a self-guided walk: pick up a copy of the walk booklet from Mary MacKillop Museum or the Norwood Town Hall – or you can download it here. Guided tours of the walk will be available on the 1st Wednesday  and 1st Sunday of every month @ 10.30a.m.,  meeting at Mary MacKillop Museum,  19 Phillips St, Kensington.  Bookings are essential,  by 4.00p.m. the day before the scheduled walk, see contact details below.
1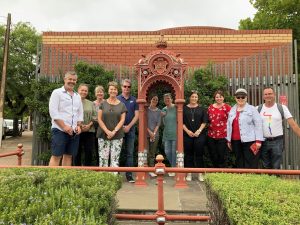 More Information:
Mary MacKillop Museum – 
Phone: 08 8130 5910
Email: info.mmprecinct@sosj.org.au