Adelaide's Mary MacKillop Museum is Now Open!
Grey skies and wild winds could not dampen the excitement and delight that were so evident amongst the 320 guests who gathered at Mary MacKillop College in Kensington on 1 December 2019 to witness the reopening of the adjoining Mary MacKillop Museum, which had been closed for redevelopment since late 2015.
Originally commissioned as a Josephite Sesquicentenary project, the redevelopment and extension of the Museum took longer than was first anticipated. The delays and disappointments, however, paled into insignificance as the Sisters and all present at this memorable event celebrated the transformation that had taken place in recent months and which has produced a contemporary, inviting space that is interactive, reflective and inspirational.
During the opening ritual, the unveiling of the Commemorative Plaque was shared by Sister Monica Cavanagh, Congregational Leader of the SOSJ and His Excellency, Governor Hieu Van Le, Governor of South Australia.
Sister Monica reminded guests that:
The Museum is situated  on the sacred ground where Mary MacKillop lived, walked, worked, prayed, laughed and anguished from 1872 to 1883.'
She expressed her hope that this will, once again, be a place of education and pilgrimage, where visitors will engage in, and be inspired by, the story that shaped Mary MacKillop into the courageous, ground-breaking woman Australians have come to know and love.
Governor Hieu Van Le, an ardent admirer of Mary MacKillop, spoke of her from his own perspective, naming  why she inspires him, especially her resilience, and why she is so significant for Australians of all backgrounds …
'Mary MacKillop is a woman for all Australians who, through her example, remains relevant to us today as a woman of foresight and faith.'
Adelaide's Apostolic Administrator, Bishop Greg O'Kelly, who blessed the Commemorative Plaque, linked a line from Psalm 127: 'If our God does not build the house, then in vain do the builders labour …' with a letter written by Mary 25 years after the Josephites' humble beginnings in Penola. Then, she wrote to her Sisters:  'Little did either of us then dream of what was to spring from so small a beginning …' a theme which is threaded through the redeveloped Museum.  In Bishop O'Kelly's estimation, the new Mary MacKillop Museum 'moves the heart and lifts the soul.'
In her vote of thanks, the Josephite's Regional Leader, Sister Margaret Cleary, acknowledged and thanked the many people who had contributed in any way to the Museum's redevelopment, which was steered by Sister Mary Ryan, and the multi-skilled members of the Task Force who had invested so much of their time, talents, passion and personal resources in this project over the last four years. The hard work and initiative of the Fund-raising Committee, headed by Sister Brigette Sipa, were also recognised, along with the researchers, writers and editors, the architects, designers and skilled people who had combined forces to create a beautiful, welcoming, educational and spiritual ambience for visitors.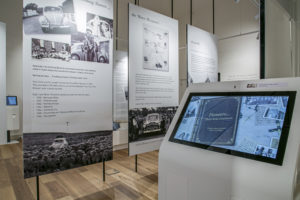 This new Museum goes beyond telling a little of Mary's story.  We also encounter a band of her courageous early companions who enabled the Josephite story to develop in ways and places that Mary and Julian could never have imagined.  We can follow their inspiring stories via the digital display kiosks dotted round the Museum's galleries.  Using SoundPens, we are also able to hear the voices of Mary, Julian, pioneering Sisters, and also people – Sisters and others with Josephite hearts – representing the countless others who have kept the Penola dream alive as they have worked, in myriad ways, to make their small part of the world a better, more just place.
Other highlights of the new Museum include display boards, historic photos and letters, relics, art works, artefacts and memorabilia from various aspects of the 153 year-old Josephite story.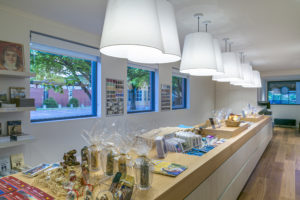 The Sisters of Saint Joseph invite you to visit Mary MacKillop Museum Adelaide. On arrival, you will be welcomed as you embark on a journey of discovery and inspiration.
Mary MacKillop Museum Adelaide, which includes a Gift Shop and Café, is open 6 days a week.  It is closed on Mondays, and between Christmas and New Year and early January.
The Staff and Volunteers of Mary MacKillop Precinct are committed to the Safeguarding of Children and Vulnerable Adults and to providing                 a Safe Environment for all.  We have a zero tolerance of child abuse or the abuse of vulnerable adults.